Presently, we live in a digital age where technology has had an evolutionary impact on the way we live and operate. Gradually and steadily, technology has been making strides in transforming the means of learning and education. Technology-enabled syllabus and smart boards have long displaced traditional green board and two-dimensional textbook images.
As we jump into the new age of media conversion, AR (Augmented Reality) and VR (Virtual Reality) are becoming the most sizzling topics in education technology. Before we talk about the influence of VR and AR used in education and learning, let's first take a quick look at what these technologies are.
VR, MR, and AR are the abbreviation of future technologies, where the second letter "R" denotes "reality", and the first letter designates its type. VR states virtual reality; AR means augmented reality and MR denotes mixed reality, i.e. mixture of both AR and VR. They can be used in education correspondently.
VR is the acronym of virtual reality Software that needs glasses with or without sensors. After wearing VR glasses, you will be immersed in a fictional or recreated atmosphere. Say, for instance, after VR glasses you can get to Mars or wander the streets of New York while actually sitting in Paris.
You can look around, rotate 360 ​​degrees, and observe around the craters or the view of Big Ben, while staying at home, in a six-story building.
AR is augmented reality and most of you became familiar with it after playing Pokémon Go. After you download the AR-application on your smartphone, you can observe additional digital things in space – from the human heart (Google Expeditions) to breathing pictures (ZIR).
MR is the short form of mixed reality that typically merges both technologies. These technologies are also popular with the name of immersive technologies. It is a collective name given to all of the technologies that incorporate human interaction with space, learning, content.
The major focus of these immersive technologies is to blur the line separating the real and the fictional worlds. They also allow you to communicate and immerse yourself in knowledge and product.
Now that we have discussed the basics of VR and AR, let's move forwards and understand How VR and AR used in education and is it helpful in 2020 or now.
How is VR and AR used in education?
At school or university level, virtual reality will benefit those who usually request "do my work for me", to improve a better perception of complex topics. Let's take an example of the lungs. The teacher can mention the purposes of the lungs for a very long time, what is their structure inside and out, using words.
Now imagine that with the help of virtual reality technologies, you will be able to "tour" inside the lungs, or any other body part for that matter, with your own eyes. It is improbable that you will ever misremember where alveoli are and what purpose they serve.
Virtual reality is fit for the opening of the course, to engage in a specific topic, the middle - to envision some kind of complicated topics. Or the virtual reality piece can be employed at the end to encourage the student to complete their homework.
Education Industry and Immersive Technology
If we pay a close look into How is VR and AR used in education, we'll observe that the education industry has somewhat been hesitant in welcoming new technologies. Nevertheless, we live in an ever-changing world, and such industries must implement new technologies such as AR and VR to stay relevant in 2020.
By building an immersive and communicative learning experience without the aid of textbooks, AR and VR technology enables the student to travel and attain knowledge at their own pace, thus stimulating education and comprehension and improves critical retention.
Moving further, VR and AR-based applications and software applications for education, that merges digital technologies and studying, enhance the educational manner. It also allows learners to acquire knowledge visually.
These modern technologies also present firm support to boost the education process. For instance, a student can easily about jungle mammals by going on an expedition through a digital jungle with the help of a smartphone app, plain cardboard VR glasses, and earphones.
Without even stepping out of their respective homes, learners are exposed to an entirely new and active learning atmosphere.
Talking about How is VR and AR used in education to help teachers, they can easily use it to clear the concepts of students in subjects like Physics, Chemistry, and Biology. Using virtual reality in education that not just keeps learners engaged, but also enables them to exercise the same experiment in a safe secure environment. This will help students prepare in advance for real experiments in real laboratories.
Further, students of medicine can e easily study the precision of anatomy, determine the complications of the surgery, and simulate medical conditions for practice.
Given below are some of the key benefits schools and institutions feel after using AR and VR technology for education and teaching purposes.
Students can explore sites all over the world without actually leaving the classroom.
Develop insight for inhabitants in crisis by stepping into their shoes
Experience different careers first hand
Explore the depth of the ocean and the vastness of space
Explore within the human body
Allow students to share their work with others by creating their own VR content
Assist students to explore how VR can be blended into every subject area and curriculum
It promotes curiosity and wonders among students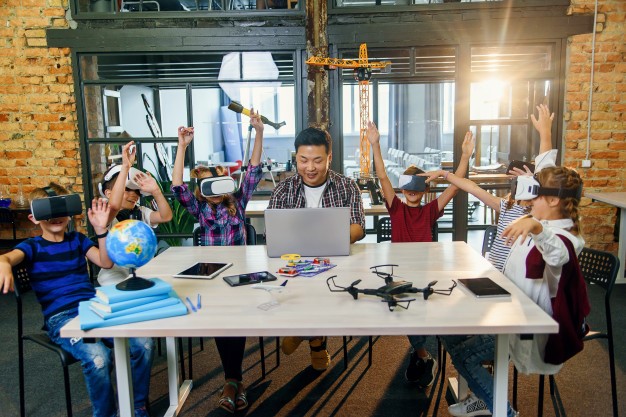 AR and VR Technology: Challenges
One of the major and most prevalent challenges of using augmented reality technology is the struggle faced by teachers in using new technologies. Also, not all learners have smartphones proficient in supporting AR content.
On the other hand, VR faces an entirely different challenge. Soaring costs of hardware, approachability, and lack of quality content are the major concerns that have kept VR from being the breakthrough tool in education.
However, all these problems are also backed up by various solutions. With every year passing, more and more developers are working towards making this technology affordable for all. The teachers also receive comprehensive seminars or sessions that tutor them on how to use the VR or AR devices.
Talking about the content, various companies are especially devoted towards producing quality educational content from students ranging from nursery to Masters and Ph.D.
AR AND VR in Recent Years
While VR can present a wholesome experience, AR in education can be utilized as an additional tool for textbook learning. No wonder, from giants like Google and Microsoft to startups such as EON Reality, Nearpod, and University, has been centered on presenting tailored VR experiences. In India, firms are uniting AR/VR technologies for nursery to the college-level courses for students mapping the AR/VR journeys with curriculum content for various subjects.
Immersive Technology and Global Pandemic
The world is experiencing the COVID pandemic from the past 3-4 months and it will not be wrong to mention that it has impacted the education and learning process to a great extent.
The markets are crashing, big organizations are getting shut and the financial crisis has almost reached our door. In such a condition not only our present but the future has also become uncertain. COVID-19 has left the fate of our career hanging.
But, now is the right time for schools and universities to adopt modern technologies such as VR and AR and continue the process of teaching in a more immersive way. Students can comfortably sit at their homes and attain knowledge of the world.